S2E7 - Small by Claire Lynch
This one will get you in the feels
1 year ago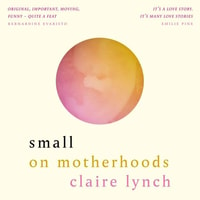 Episode Notes
We discuss Claire Lynch's memoir Small. No spoilers but this one hit us both in the feels for very different reasons. Thank you to Claire for providing the review copy.
Here is the blurb:
"Babies who are this small, he says, have a good chance of survival. Small is not good for babies. It is not whimsical or cute or the cause of admiration. It is the first time it occurs to us that they might not survive. Babies die from smallness."
Claire Lynch knew that having children with her wife would be complicated but she could never have anticipated the extent to which her life would be redrawn by the process.
This dazzling debut begins with the smallest of life's substances, the microscopic cells subdividing in a petri dish in a fertility treatment centre. She moves through her story in incremental yet ever-growing steps, from the fingernail-sized pregnancy test result screen which bears two affirmative lines to the premature arrival of her children who have to wear scale-model oxygen masks in their life-saving incubators. Devastatingly poignant and profoundly observant - and funny against the odds - Claire considers whether it is our smallness that makes our lives so big.
Please rate and review the podcast wherever you find it.
If you have any comments or recommendations please contact us via social media or by email at [email protected].
Next up is Wyrd Gods by Susana Imaginário
Support Audiobookish by contributing to their Tip Jar: https://tips.pinecast.com/jar/audiobookish
Find out more at https://audiobookish.pinecast.co
This podcast is powered by Pinecast. Try Pinecast for free, forever, no credit card required. If you decide to upgrade, use coupon code r-8a93af for 40% off for 4 months, and support Audiobookish.