S4E5 - The Timewaster Letters Compendium by Robin Cooper (Robert Popper)
8 months ago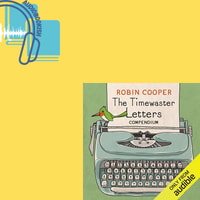 Episode Notes
We discuss The Timewaster Letters Compendium by Robin Cooper (aka Robert Popper) as read by Robert Popper, Dawn French, Peter Serafinowicz, and Jonathan Keeble.
The massive best-selling Timewaster Letters books featured the wonderfully silly letters of Robin Cooper (a.k.a. Friday Night Dinner creator Robert Popper) in which he shared his madcap ideas - and even madcapper inventions - with everyone from the British Halibut Association to the Peanut Council. The resulting replies, as well as Cooper's replies-to-these-replies, had a nation in hysterics.  
Letter-writing was never the same again.... 
And now, exactly 15 years, 5 months and 26 days after the first Timewaster Letters book hit our shelves, you can listen to these hilarious letters, as they're brought to life in this Audible exclusive by comedy giants Dawn French, Peter Serafinowicz and Robert Popper.
The Timewaster Letters Compendium brings together The Timewaster Letters and Return of the Timewaster Letters along with exclusive audio content. There's a new Introduction by Popper, a chat with Serafinowicz reflecting on the 20 years since Popper sent off his first fateful letter. Plus, a world exclusive - The Cement Murder Mystery, the first thriller story penned by Robin Cooper himself and read by Jonathan Keeble. We don't want to make promises, but it might also be the worst-written story of all time.
You'll also get to hear a selection of Popper's world-famous prank phone calls, in which he poses as the hapless and hopeless Robin Cooper. 
Robert Popper is a writer, producer and performer, best known for creating the Channel 4 smash hit comedy_ Friday Night Dinner_, as well as the award-winning spoof BBC2 science show Look Around You. He has also worked on many of Britain's top comedy shows including Peep Show, The Inbetweeners, The IT Crowd and Stath Lets Flats, as well as writing on South Park. 
This episode was brought to you by Alexandra Park BJJ - visit their website to book your free trial class. https://www.alexandraparkbjj.co.uk/
Support Audiobookish by contributing to their tip jar: https://tips.pinecast.com/jar/audiobookish
Find out more at https://audiobookish.pinecast.co
This podcast is powered by Pinecast. Try Pinecast for free, forever, no credit card required. If you decide to upgrade, use coupon code r-8a93af for 40% off for 4 months, and support Audiobookish.