New Year's Special: Hogfather by Terry Pratchett
Happy New Year! We discuss the a new production of the 20th Discworld book
1 year ago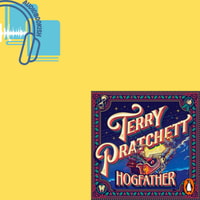 Episode Notes
Happy New Year! We hope you all have a kickass 2022.
In a special episode, we discuss one of Poppy's favourite Discworld books Hogfather.
The Discworld books are receiving new audiobook versions and we believe that this is the first one to be released. It is read by Sian Clifford, Bill Nighy (doing the footnotes), and, Peter Serafinowicz (as DEATH).
We had a great time chatting about it.
The Blurb: 'Twas the night before Hogswatch and all through the house...something was missing.
The stockings are hanging ready, the sherry and pies are waiting by the fireplace - but where is the jolly fat man with his sack? It's not right to find Death creeping down chimneys and trying to say Ho Ho Ho - but someone's got to bring the little kiddies their presents. Or else they might stop believing. Belief is important in Discworld, particularly on the last night of the year when the time is turning. If the real man in the red suit isn't found by morning, there won't be a morning. Ever again...
The Discworld novels can be read in any order but Hogfather is the fourth book in the Death series; a festive feast of darkness (but with jolly robots and tinsel too).
As always you can reach us with any comments or suggestions by emailing audiobookishp[email protected] or contacting us on social media at Audiobookishpod
Thanks for listening we will be back soon with season 3!
Support Audiobookish by contributing to their Tip Jar: https://tips.pinecast.com/jar/audiobookish
Find out more at https://audiobookish.pinecast.co
This podcast is powered by Pinecast. Try Pinecast for free, forever, no credit card required. If you decide to upgrade, use coupon code r-8a93af for 40% off for 4 months, and support Audiobookish.