S3E6 - Unfortunate Stars: A Wartime Confession by Susan Lanigan
WW2, romance, and quality narration
1 year ago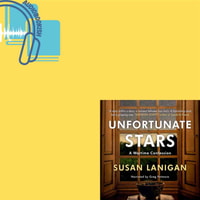 Episode Notes
We review Unfortunate Stars: A Wartime Confession by Susan Lanigan. Thanks to Susan for the ARC. You can learn more about her books here: https://susanlanigan.com/
About the book:
Czechoslovakia, 1938 - Friedrich Pflommer, a married man with two children, has fallen hopelessly in love with the most unsuitable person possible - the young, volatile Kai, an exchange student living under his own roof. As Nazi forces gather on the border, Friedrich is playing a high-stakes game and risks losing everything.
France, 1915 - as a young lieutenant in wartime, Friedrich is badly injured during a failed counterattack, but a meeting with an Englishman during battle changes everything.
Unfortunate Stars is a short story of romantic love and deep friendship between men, of what it is to surrender to our own truth, and to live it even in the hardest of circumstances.
It is narrated by Greg Patmore
Support Audiobookish by contributing to their Tip Jar: https://tips.pinecast.com/jar/audiobookish
Find out more at https://audiobookish.pinecast.co
This podcast is powered by Pinecast. Try Pinecast for free, forever, no credit card required. If you decide to upgrade, use coupon code r-8a93af for 40% off for 4 months, and support Audiobookish.