S6E1 - The Doctor's Wife by Daniel Hurst
Narrated by Sarah Durham and David Wayman
1 month ago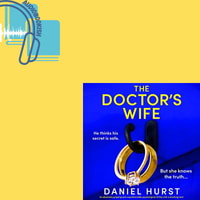 Episode Notes
We review The Doctor's Wife by Daniel Hurst, the first in a trilogy of thrillers about a village doctor and his wife. Thanks to Jess from Bookouture for the ARC.
About the book:
He thinks his secret is safe. But she knows the truth....
My husband is a doctor. He's smart and charming, and everybody trusts him. Except me.
On the surface, it looks like I have it all–the perfect marriage, the perfect husband, the perfect life. But it's far from the truth.
Doctor Drew Devlin is not the respectable figure he makes out to be. The reason we moved to this beautiful, old property with a gorgeous view of the sea was because we needed to put our past behind us. It should've been a fresh start for us both.
Except I've discovered my husband has been lying to me again. He's using the power he has in his job to mess with people's lives and to get exactly what he wants–no matter who it hurts.
But he's underestimated me. I've had plenty of time, in this big, isolated house, to think about all of his mistakes.
And my husband has no idea what's about to happen next....
The episode is brought to you by Alexandra Park BJJ. At Alexandra Park BJJ, we aim to be inclusive, everyone can benefit from this incredible art form, not just the athletic or ultra-competitive. So, if you want to develop core strength, build endurance and gain confidence, contact enquiries at alexandraparkbjj.co.uk or visit our website to attend a free class. http://www.alexandraparkbjj.co.uk/ 
If you have thought about podcasting before and realized that you need a lot of different tools and services, those days are over. With Zencastr's all-in-one podcasting platform, you can create your podcast all in one place and distribute to Spotify, Apple, and other major destinations. Use my special link https://zen.ai/8-eGgE8Oov567U6ejorYZg to save 30% off your first month of any Zencastr paid plan.
https://www.patreon.com/Audiobookish
https://ko-fi.com/audiobookish
Support Audiobookish by contributing to their tip jar: https://tips.pinecast.com/jar/audiobookish
Find out more at https://audiobookish.pinecast.co
This podcast is powered by Pinecast. Try Pinecast for free, forever, no credit card required. If you decide to upgrade, use coupon code r-8a93af for 40% off for 4 months, and support Audiobookish.