S1E2 - Toksvig's Almanac 2021 by Sandi Toksvig
A review of Toksvig's Almanac in honour of #IWD2021
1 year ago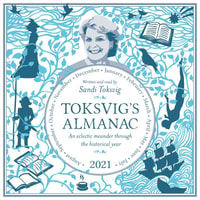 Episode Notes
In honour of International Women's Day, here's our review of Toksvig's Almanac 2021 by Sandi Toksvig, which celebrates forgotten women missing from history books. We talk about book covers, historical listicals, and the challenges a book like this poses in the audiobook format.
IWD2021 theme this year is #ChoosetoChallenge. The Toksvig's Almanac 2021 is full of stories of women who chose to do just that.
As always please leave a review and rating on the app where you have found us as it helps keep the lights on.
Links to our social media and bookshop 👉 https://linktr.ee/Audiobookishpod
Support Audiobookish by donating to their Tip Jar: https://tips.pinecast.com/jar/audiobookish
Find out more at https://audiobookish.pinecast.co
This podcast is powered by Pinecast. Try Pinecast for free, forever, no credit card required. If you decide to upgrade, use coupon code r-8a93af for 40% off for 4 months, and support Audiobookish.