S5E1 - The Ice Children & The Book that No One Wanted to Read
The Week Junior Book Awards Special 1
27 days ago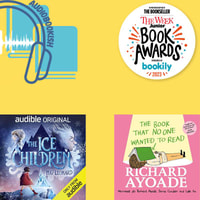 Episode Notes
The first in our specials reviewing the books on The Week Junior Book Awards shortlist for Audiobook of the Year 2023.
First up is The Ice Children by M.G. Leonard, as narrated by Helen Keeley and a full cast.
At the stroke of midnight on the dawn of December, five-year-old Finn Albedo is found frozen in the city park on a pedestal of ice. The doctor says his heart is beating, but no one can wake him. Finn's big sister, Bianca, suspects the beautiful sparkling book Finn got from the library has something to do with it all but the mysterious book has vanished and no one will listen. As more children are frozen, Bianca realises she's running out of time. Is there a connection between the peculiar stranger wearing a top hat and the disappearing books? The search for truth hurls Bianca into a fantastical winter wonderland where all is not as it seems… Can Bianca remember her mission and find a way to save her brother and the other Ice Children before all their hearts are lost forever?
Secondly, we have The Book That No One Wanted to Read by Richard Ayoade as narrated by Richard Ayoade, Jarvis Cocker, and Lydia Fox.
What is it that makes YOU want to read a book? Richard Ayoade's children's debut gives you all the answers in a way that's silly, funny, and thoroughly beguiling. Have you ever thought about how it feels to be a book? To be left under a whiffy pant pile or shelved, forever collecting dust? To have your pages bent backwards or your spine BROKEN? What if you don't have a sparkly unicorn or dragon adorning your cover–who will pick you out of the bookshop then? This is the story of the sadly neglected Book That No One Wanted To Read–can its destiny change when it finally meets the right reader? Spoiler alert: yes.
Thank you to The Week Junior for sending us the reviewing copies. You can find out more about the awards by visiting their website: https://www.theweekjuniorbookawards.co.uk/
Support Audiobookish by contributing to their tip jar: https://tips.pinecast.com/jar/audiobookish
Find out more at https://audiobookish.pinecast.co
This podcast is powered by Pinecast. Try Pinecast for free, forever, no credit card required. If you decide to upgrade, use coupon code r-8a93af for 40% off for 4 months, and support Audiobookish.