S4E10 - British Book Awards Special 1: Parenting Hell by Rob Beckett & Josh Widdicombe and Menopausing Davina McCall with Dr. Naomi Potter
Parenting Hell by Rob Beckett & Josh Widdicombe and Menopausing Davina McCall with Dr. Naomi Potter
7 months ago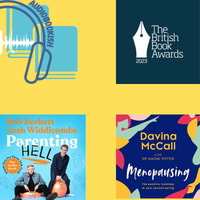 Episode Notes
British Book Awards Special 1!
The first in our special series discussing the titles on the British Book Awards shortlist for Book of the Year - Audiobook: Non-Fiction.
We discuss Parenting Hell by Rob Beckett & Josh Widdicombe and Menopausing Davina McCall with Dr. Naomi Potter.
This episode was brought to you by Alexandra Park BJJ. To book a free trial class visit: https://www.alexandraparkbjj.co.uk/
Support Audiobookish by contributing to their tip jar: https://tips.pinecast.com/jar/audiobookish
Find out more at https://audiobookish.pinecast.co
This podcast is powered by Pinecast. Try Pinecast for free, forever, no credit card required. If you decide to upgrade, use coupon code r-8a93af for 40% off for 4 months, and support Audiobookish.