S3E10 - BONUS! #BritishBookAwards Winners Special
Congratulations to Cressida Cowell and David Tennant
1 year ago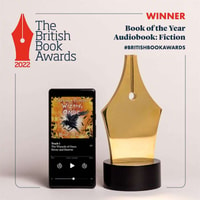 Episode Notes
A Special Bonus episode. We repost our review of the winner of Book of the Year - Audiobook: Fiction. Congratulations to the Wizards of Once: Never and Forever by Cressida Cowell as narrated by David Tennant from HODDER CHILDREN'S BOOKS. This episode also contains Cressida's acceptance speech. #Nibbies #BritishBookAwards
Please get in touch via email at audioboo[email protected] or follow us on social media @audiobookishpod.
From the British Book Awards website:
Never and Forever is the fourth and final book in Cressida Cowell's The Wizards of Once series. Our judges celebrated the return of David Tennant as the voice of the series; his "impish, agile" narration was "masterfully executed". One judge declared that Tennant is a "reader at the heights of his powers"; it was a "natural match of writer, text and narrator", added another. Never and Forever reveals the story's hitherto-unknown narrator, which could have been a problem for the audiobook but the publisher found a clever solution. The attention given to the production "conjured a visual world" and an audio experience that was "pure heart from beginning to end". Never and Forever was Hachette's most pre-ordered audiobook ever, 47% up on previous titles in the series. It is "the benchmark" for kids' audiobooks, the judges agreed
Support Audiobookish by contributing to their tip jar: https://tips.pinecast.com/jar/audiobookish
Find out more at https://audiobookish.pinecast.co
This podcast is powered by Pinecast. Try Pinecast for free, forever, no credit card required. If you decide to upgrade, use coupon code r-8a93af for 40% off for 4 months, and support Audiobookish.