S5E2 - Wolfbane & Ellie and the Cat
The Week Junior Book Awards Special 2
2 months ago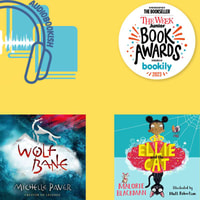 Episode Notes
This is the second in our specials reviewing the books on The Week Junior Book Awards shortlist for Audiobook of the Year 2023.
We chat about Wolfbane by Michelle Paver as narrated by Ian McKellen:
The grand finale to the prize-winning adventure series that has changed the lives of millions. Breathtaking world-building on an epic scale. Pure escapism at its best. It is early spring, a turbulent, perilous time of sudden storms, frozen river fractures and drifting ice. Fleeing from a demon intent on devouring his souls, Wolf is swept out to sea far from the forest and his pack. The ocean, too, teems with danger: sea wolves, sharks and hunters of the deep, and the demon is gaining ground. Torak and Renn must race to save their pack-brother, battling the harsh icy waves and merciless torrents. If they can't find Wolf in time, the bond between them will be severed forever.... Run wild with Wolf Brother for the last time in a Stone Age world we all want to be part of.
We also discuss Ellie and the Cat by  Malorie Blackman (Illustrated by Matt Robertson) as narrated by Esme Sears:
Ellie's bad behaviour is driving Grandma mad! It's time to teach her a lesson she'll never forget … by swapping Ellie's body with Jolly the cat.
There's only one way for Ellie to break Grandma's curse, and time is running out. Can she change her ways and find some friends to lend a hand? Or will Ellie be trapped as a cat for ever?
A cautionary tale of brats, cats and a little bit of magic
Thank you to The Week Junior for sending us the reviewing copies. You can find out more about the awards by visiting their website: https://www.theweekjuniorbookawards.co.uk/
Support Audiobookish by contributing to their tip jar: https://tips.pinecast.com/jar/audiobookish
Find out more at https://audiobookish.pinecast.co
This podcast is powered by Pinecast. Try Pinecast for free, forever, no credit card required. If you decide to upgrade, use coupon code r-8a93af for 40% off for 4 months, and support Audiobookish.