S5E4 - Spaceboy and Real Pigeons
The Week Junior Book Awards Special 4
2 months ago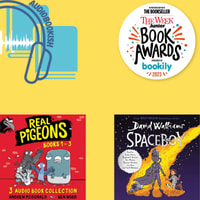 Episode Notes
This is the last in our specials reviewing the books on The Week Junior Book Awards shortlist for Audiobook of the Year 2023.
Spaceboy by David Walliams as narrated by Akiya Henry, Reginald D. Hunter, Eric Meyers, Penelope Rawlins, Liza Ross, David Walliams
America. The 1960s.
Stuck on a remote farm with her awful aunt, twelve-year-old orphan Ruth spends every night gazing at the stars, dreaming of adventure.
One night she spots a flying saucer blazing across the sky…before crash-landing in a field. When the spaceship opens and reveals a mysterious alien, all Ruth's dreams come true.
But does this visitor from another planet have a giant secret?
We also discuss Real Pigeons: Audio Books 1 to 3 by Andrew McDonald and Ben Alexander, as narrated by Tom Alexander.
Ever wonder why pigeons always act so weird? It's because they're out there chasing the bad guys and saving your butts!
Did you know your city is protected by a secret squad of crime-fighting pigeons? It's true! With master of disguise Rock Pigeon, bendy Tumbler, strong Frillback and super-finder Homey, the REAL PIGEONS will solve any mystery and fight any bad guy to keep the city safe!
So what do Real Pigeons do? They EAT DANGER, of course! This squad of crime-fighting feathered friends is nonstop action and nonstop laughs. In their second silly adventure watch as they infiltrate a secret warehouse full of bottled birds and take down a truly criminal ostrich. The DANGER is REAL. And so are the PIGEONS.
Thank you to The Week Junior for sending us the reviewing copies. You can find out more about the awards by visiting their website: https://www.theweekjuniorbookawards.co.uk/
The episode is brought to you by Alexandra Park BJJ. At Alexandra Park BJJ, we aim to be inclusive, everyone can benefit from this incredible art form, not just the athletic or ultra-competitive. So, if you want to develop core strength, build endurance and gain confidence, contact enquiries at alexandraparkbjj.co.uk or visit our website to attend a free class. http://www.alexandraparkbjj.co.uk/ If you have thought about podcasting before and realized that you need a lot of different tools and services, those days are over. With Zencastr's all-in-one podcasting platform, you can create your podcast all in one place and distribute to Spotify, Apple, and other major destinations. Use my special link https://zen.ai/8-eGgE8Oov567U6ejorYZg to save 30% off your first month of any Zencastr paid plan.
Support Audiobookish by contributing to their tip jar: https://tips.pinecast.com/jar/audiobookish
Find out more at https://audiobookish.pinecast.co
This podcast is powered by Pinecast. Try Pinecast for free, forever, no credit card required. If you decide to upgrade, use coupon code r-8a93af for 40% off for 4 months, and support Audiobookish.