S1E3 - The Mermaid of Black Conch by Monique Roffey
1 year ago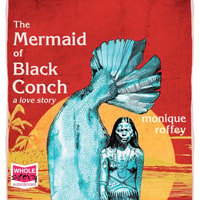 Episode Notes
We review The Mermaid of Black Conch by Monique Roffey. This beautiful novel was the winner of the 2020 Cost Book Award and the 2020 Costa Novel Award. The audiobook is narrated by Ben Onwukue and Vivienne Acheampong. Our discussion covers the use of music in audiobooks, our love of horrible villains, and how some books are written to be read aloud.
About the book:
March 1976: St Constance, a tiny Caribbean village on the island of Black Conch, at the start of the rainy season. A fisherman sings to himself in his pirogue, waiting for a catch but attracts a sea-dweller he doesn't expect. Aycayia, a beautiful young woman cursed by jealous wives to live as a mermaid, has been swimming the Caribbean Sea for centuries. And she is entranced by this man David and his song.
Support Audiobookish by donating to their Tip Jar: https://tips.pinecast.com/jar/audiobookish
Find out more at https://audiobookish.pinecast.co
This podcast is powered by Pinecast. Try Pinecast for free, forever, no credit card required. If you decide to upgrade, use coupon code r-8a93af for 40% off for 4 months, and support Audiobookish.