S2E4 - The Carpet People
2 years ago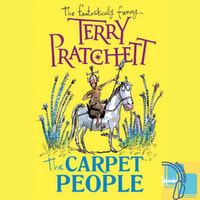 Episode Notes
We chat about The Carpet People. We had some harsh words for it.
About the book:
In the beginning, there was nothing but endless flatness. Then came the Carpet… That's the old story everyone knows and loves. But now the Carpet is home to many different tribes and peoples and there's a new story in the making.
The story of Fray, sweeping a trail of destruction across the Carpet. The story of power-hungry mouls – and of two Munrung brothers, who set out on an amazing adventure. It's a story that will come to a terrible end – if someone doesn't do something about it. If everyone doesn't do something about it…
Co-written by Terry Pratchett, aged seventeen, and master storyteller, Terry Pratchett, aged forty-three.
Sir Terry Pratchett was the acclaimed creator of the global bestselling Discworld series, the first of which, The Colour of Magic, was published in 1983. In all, he was the author of fifty bestselling books. His novels have been widely adapted for stage and screen, and he was the winner of multiple prizes, including the Carnegie Medal, as well as being awarded a knighthood for services to literature. Worldwide sales of his books now stand at 70 million, and they have been translated into thirty-seven languages. Sir Terry Pratchett died on 12th March 2015 
Support Audiobookish by contributing to their Tip Jar: https://tips.pinecast.com/jar/audiobookish
Find out more at https://audiobookish.pinecast.co
This podcast is powered by Pinecast. Try Pinecast for free, forever, no credit card required. If you decide to upgrade, use coupon code r-8a93af for 40% off for 4 months, and support Audiobookish.