S1E8 - Slaine: The Horned God by Pat Mills & Simon Bisley
The Classic 2000 AD Graphic Novel, in Full-Cast Audio for the First Time
11 months ago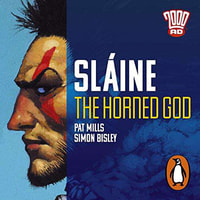 Episode Notes
We review the audiobook adaptation of the 2000 AD classic graphic novel. We chat about Celtic myths, feminism, and the advantages of shorter audiobooks.
This is the last episode of season one. We will be back soon. Thank you all for listening and sharing.
Description For too long the people of Tír na nÓg have suffered under the dominion of the drunes; strange druids who have poisoned the land with their magic. Sláine has had enough of their tyranny and, through the Earth Goddess, he learns some shocking truths about the priesthood and his own future. Now Sláine must unite the four kings of Tir-Nan-Og and use their mystical weapons as he and the Sessair tribe prepare for all-out war! Featuring Colin Morgan, Gerry O'Brien, Ayoola Smart, Gemma Whelan, Stephen Hogan and a full cast, fans of Sláine and newcomers to the famed barbarian's world will be transported to a world of Celtic mythology and fantasy for an immersive listening experience like no other.
Support Audiobookish by contributing to their Tip Jar: https://tips.pinecast.com/jar/audiobookish
Find out more at https://audiobookish.pinecast.co
This podcast is powered by Pinecast. Try Pinecast for free, forever, no credit card required. If you decide to upgrade, use coupon code r-8a93af for 40% off for 4 months, and support Audiobookish.