S1E1 - Pilot: Our Top 5 Audiobooks
Poppy and Fahed list their top five audiobooks.
1 year ago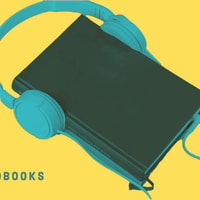 Episode Notes
Welcome to the pilot episode of Audiobookish, where we introduce ourselves and our love of audiobooks! We talk about our top 5s and what we're listening to at the moment, have a detour to Norway and finish on the age-old debate about the best way to listen to audiobooks. We hope you enjoy it and come back for more!
Please leave a review and rating on the app where you have found us as it helps keep the lights on.
Links to our social media and bookshop 👉 https://linktr.ee/Audiobookishpod
Any questions or recommendations please email us at audiobookishpod AT gmail DOT com.
Support Audiobookish by donating to their Tip Jar: https://tips.pinecast.com/jar/audiobookish
Find out more at https://audiobookish.pinecast.co
This podcast is powered by Pinecast. Try Pinecast for free, forever, no credit card required. If you decide to upgrade, use coupon code r-8a93af for 40% off for 4 months, and support Audiobookish.