S2E3 - True Crime Story by Joseph Knox
An ingenious take on true crime
1 year ago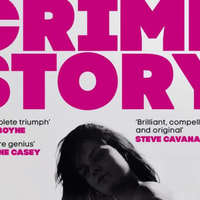 Episode Notes
We had a blast discussing this thrilling and innovative take on true crime. It is a surprising and strange story of family dysfunction, coming of age, and, how difficult it is to get to the truth of things. Thanks to Penguin for the ARC.
Blurb:
What happens to those girls who go missing? What happens to the Zoe Nolans of the world? In the early hours of Saturday, December 17th, 2011, Zoe Nolan, a 19-year-old Manchester University student, walked out of a party taking place in the shared accommodation where she had been living for three months.
She was never seen again.
Blending fact and fiction in his first stand-alone novel, Joseph Knox delivers a thrilling true crime story like no other.
Cast: Joseph Knox, Sarah Parks, Ciara Baxendale, David John, Chris Thompson, Louis Bernard, Drew Dillon, Shane Zaza, Caitlin Griffiths, Conor McLeod, Dolly Webb, Grace Cooper, Isla Lee, Levi Brown, Noah Marullo and Tara Tijani.
If you have any comments about the episode, have any recommendations or would just like to get in touch our email is: [email protected] Our next book is The Carpet People by Terry Pratchet
Support Audiobookish by contributing to their Tip Jar: https://tips.pinecast.com/jar/audiobookish
Find out more at https://audiobookish.pinecast.co
This podcast is powered by Pinecast. Try Pinecast for free, forever, no credit card required. If you decide to upgrade, use coupon code r-8a93af for 40% off for 4 months, and support Audiobookish.