S1E6 - No Fixed Abode: Life and Death Among the UK's Forgotten Homeless by Maeve McClenaghan
1 year ago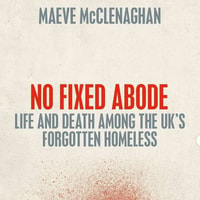 Episode Notes
This week's episode is a discussion of No Fixed Abode by Maeve McClenaghan. No Fixed Abode starts with a simple question: How many homeless people are dying in the UK every year?
What follows is a thorough investigation of homelessness policies, the people on the frontline trying to help those seeking support, and the stories of the homeless themselves. Our discussion covers Maeve's compassionate approach to journalism, the rage-inducing details of a system close to collapse, and how the book has an ultimately hopeful conclusion. It doesn't have to be this way.
As we come out of lockdown this is a timely reminder not to forget the most vulnerable in our society.
About the author:
Maeve McClenaghan is an award-winning investigative journalist at The Bureau of Investigative Journalism and founder of the popular, critically-acclaimed podcast, The Tip Off. She has led investigations for BBC radio, the Guardian and Buzzfeed UK. Maeve has won the Bar Council's Legal Reporting Award, the innovation awards at the British Journalism Awards and the European Press Prize. She has also been a finalist for four Amnesty Media Awards, the Paul Foot Award and the Orwell Prize in 2016 and 2018.
You can find her on Twitter: https://twitter.com/MaeveMCC
As always please leave a review and rating on the app where you have found us as it helps keep the lights on.
Links to our social media and bookshop 👉 https://linktr.ee/Audiobookishpod
Support Audiobookish by contributing to their Tip Jar: https://tips.pinecast.com/jar/audiobookish
Find out more at https://audiobookish.pinecast.co
This podcast is powered by Pinecast. Try Pinecast for free, forever, no credit card required. If you decide to upgrade, use coupon code r-8a93af for 40% off for 4 months, and support Audiobookish.