S5E3 - Running Out of Time & Natural Wonders of the World
The Week Junior Book Awards Special 3
2 months ago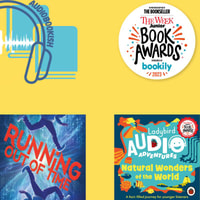 Episode Notes
This is the third in our specials reviewing the books on The Week Junior Book Awards shortlist for Audiobook of the Year 2023.
Running Out of Time by Simon Fox as narrated by Michael Golab.
Alex can steal time. The most he can take at the moment is fifteen seconds, but his grandmother took almost three minutes once - although he never saw it. But when he and his father are separated while fleeing their home country, Alex finds himself completely alone on the shores of Britain, with only his extraordinary gift to keep him safe. . .
We also discuss Natural Wonders of the World from Ladybird by Sidra Ansari as narrated by Ben Bailey Smith (a.k.a. Doc Brown) and Sophie Aldred.
Thank you to The Week Junior for sending us the reviewing copies. You can find out more about the awards by visiting their website: https://www.theweekjuniorbookawards.co.uk/
The episode is brought to you by Alexandra Park BJJ. At Alexandra Park BJJ, we aim to be inclusive, everyone can benefit from this incredible art form, not just the athletic or ultra-competitive. So, if you want to develop core strength, build endurance and gain confidence, contact enquiries at alexandraparkbjj.co.uk or visit our website to attend a free class. http://www.alexandraparkbjj.co.uk/ 
If you have thought about podcasting before and realized that you need a lot of different tools and services, those days are over. With Zencastr's all-in-one podcasting platform, you can create your podcast all in one place and distribute to Spotify, Apple, and other major destinations.
Use my special link https://zen.ai/8-eGgE8Oov567U6ejorYZg to save 30% off your first month of any Zencastr paid plan.
Support Audiobookish by contributing to their tip jar: https://tips.pinecast.com/jar/audiobookish
Find out more at https://audiobookish.pinecast.co
This podcast is powered by Pinecast. Try Pinecast for free, forever, no credit card required. If you decide to upgrade, use coupon code r-8a93af for 40% off for 4 months, and support Audiobookish.