S3E11 - A chat with Kelli Fairbrother
Last episode of Season 3!
1 year ago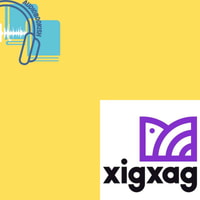 Episode Notes
We chat with the co-founder of XigXag Kelli Fairbrother about their favourite audiobooks and the future of storytelling.
Head over to https://xigxag.co.uk/ to find out more about the app and to start buying x-books.
About XigXag:
Xigxag, wants everyone to enjoy more books. Co-founders Mark and Kelli met in 2017 as colleagues and started XigXag in 2019 with the aim of revolutionising reading.
Together, they've built the XigXag app, offering users the first-ever fully integrated listen-and-read experience, at an affordable price without a subscription.
XigXag, created the first-ever fully integrated listening and reading experience for audiobook listeners, which they call the x-book®.
This powers first-ever features for audiobooks: now you can search, see illustrations, take notes, share quotes, lookup words and switch to reading or read along.
The last episode in the current season. We'll be back in July or August!
Support Audiobookish by contributing to their tip jar: https://tips.pinecast.com/jar/audiobookish
Find out more at https://audiobookish.pinecast.co
This podcast is powered by Pinecast. Try Pinecast for free, forever, no credit card required. If you decide to upgrade, use coupon code r-8a93af for 40% off for 4 months, and support Audiobookish.