S4E2 - And Away... Author by Bob Mortimer
9 months ago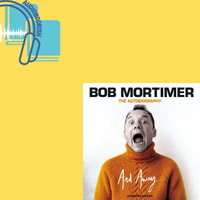 Episode Notes
We discuss Bob Mortimer's autobiography And Away... as read by Bob Mortimer.
Bob Mortimer's life was trundling along happily until suddenly in 2015 he was diagnosed with a heart condition that required immediate surgery and forced him to cancel an upcoming tour. The episode unnerved him, but forced him to reflect on his life so far. This is the framework for his hilarious and moving memoir, And Away… Although his childhood in Middlesbrough was normal on the surface, it was tinged by the loss of his dad, and his own various misadventures (now infamous from his appearances on Would I Lie to You?), from burning down the family home to starting a short-lived punk band called Dog Dirt. As an adult, he trained as a solicitor and moved to London. Though he was doing pretty well (the South London Press once crowned him 'The Cockroach King' after a successful verdict), a chance encounter in a pub in the 1980s with a young comedian going by the name Vic Reeves set his life on a different track. And now, six years on, the heart condition that once threatened his career has instead led to new success on BBC2's Gone Fishing. Warm, profound, and irrepressibly funny, And Away… is Bob's full life story (with a few lies thrown in for good measure.)  
Thanks for listening. If you have any comments or recommendations, email us at [email protected]
You can sign up for a beginner's martial arts course at Alexandra Park BJJ here: https://www.eventbrite.co.uk/e/martials-arts-course-for-beginners-bjj-brazilian-jiu-jitsu-tickets-436132041677
Support Audiobookish by contributing to their tip jar: https://tips.pinecast.com/jar/audiobookish
Find out more at https://audiobookish.pinecast.co
This podcast is powered by Pinecast. Try Pinecast for free, forever, no credit card required. If you decide to upgrade, use coupon code r-8a93af for 40% off for 4 months, and support Audiobookish.